03/10/2022
𝐓𝐡𝐞 𝐒𝐜𝐡𝐞𝐧𝐞𝐜𝐭𝐚𝐝𝐲 𝐅𝐨𝐮𝐧𝐝𝐚𝐭𝐢𝐨𝐧 𝐚𝐧𝐧𝐨𝐮𝐧𝐜𝐞𝐬 $𝟏.𝟖𝟕 𝐦𝐢𝐥𝐥𝐢𝐨𝐧 𝐠𝐫𝐚𝐧𝐭 𝐩𝐫𝐨𝐠𝐫𝐚𝐦
The Schenectady Foundation has an ambitious agenda for 2022, committing 𝐧𝐞𝐚𝐫𝐥𝐲 $𝟏.𝟗 𝐦𝐢𝐥𝐥𝐢𝐨𝐧 𝐟𝐨𝐫 𝐜𝐨𝐦𝐦𝐮𝐧𝐢𝐭𝐲 𝐢𝐧𝐢𝐭𝐢𝐚𝐭𝐢𝐯𝐞𝐬 to continue helping organizations and neighborhoods emerge from the pandemic stronger than ever. The Foundation is placing greatest emphasis on 𝘁𝘄𝗼 𝗶𝗺𝗽𝗮𝗰𝘁 𝗮𝗿𝗲𝗮𝘀: 𝗘𝗾𝘂𝗶𝘁𝗮𝗯𝗹𝗲 𝗔𝗰𝗰𝗲𝘀𝘀 𝘁𝗼 𝗛𝗲𝗮𝗹𝘁𝗵𝘆 𝗙𝗼𝗼𝗱 𝗮𝗻𝗱 𝗡𝗲𝗶𝗴𝗵𝗯𝗼𝗿𝗵𝗼𝗼𝗱 𝗥𝗲𝘃𝗶𝘁𝗮𝗹𝗶𝘇𝗮𝘁𝗶𝗼𝗻. Combined, more than $1.24 million will be invested in these areas – roughly two-thirds of the grant budget.
Please go to this area of the website for criteria, deadlines and eligibility in 𝗳𝗼𝘂𝗿 𝗰𝗮𝘁𝗲𝗴𝗼𝗿𝗶𝗲𝘀 𝗼𝗳 𝗘𝗺𝗲𝗿𝗴𝗲𝗻𝘁 𝗡𝗲𝗲𝗱𝘀 & 𝗣𝗮𝗻𝗱𝗲𝗺𝗶𝗰 𝗥𝗲𝗰𝗼𝘃𝗲𝗿𝘆, 𝗡𝗲𝗶𝗴𝗵𝗯𝗼𝗿𝗵𝗼𝗼𝗱 𝗥𝗲𝘃𝗶𝘁𝗮𝗹𝗶𝘇𝗮𝘁𝗶𝗼𝗻, 𝗘𝗾𝘂𝗶𝘁𝗮𝗯𝗹𝗲 𝗔𝗰𝗰𝗲𝘀𝘀 𝘁𝗼 𝗛𝗲𝗮𝗹𝘁𝗵𝘆 𝗙𝗼𝗼𝗱 𝗮𝗻𝗱 𝘁𝗵𝗲 𝗧𝗵𝗿𝗶𝘃𝗶𝗻𝗴 𝗡𝗲𝗶𝗴𝗵𝗯𝗼𝗿𝗵𝗼𝗼𝗱𝘀 𝗖𝗵𝗮𝗹𝗹𝗲𝗻𝗴𝗲. Also, scholarship applications in three areas will be accepted until March 31.
Questions about letters of inquiry or any of the applications should be addressed to Kristi Milligan, Director of Grants and Community Programs at kmilligan@schenectadyfoundation.org.
Since 1963, The Schenectady Foundation has invested more than $27.5 million into our communities.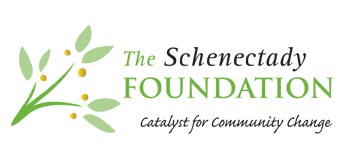 The Schenectady Foundation – Grants